JUNIOR EDITION
New Books for Younger Readers
by Celia McGee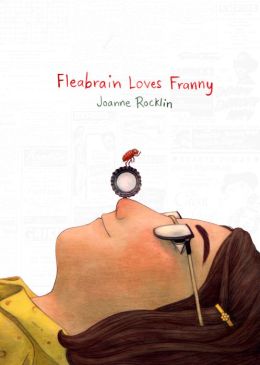 Fleabrain Loves Franny
By Joanne Rocklin (Amulet Books/Abrams)
Ages 8-12
Fleabrain, the miniscule insect in shining armor who hops in to save the day for an exceptional young girl named Franny Katzenback , is anything but. Joanne Rocklin, the best-selling author of this new book is no slouch, either, and she tops herself here. Joining the latest mini-trend of writing young people's fiction inspired by, in dialogue with, or subtly referencing classic books and their authors, she sets up an amusing tale about Fleabrain's jealousy of Franny's passion for the newly published Charlotte's Web, an instant classic and, in Franny's well-read estimation, "the greatest children's book of all time."
BIBLIOTHERAPY
A Novel Approach
More Magazine writes, "In quaint headquarters, tucked among the blank towers of midtown Manhattan, the Center for Fiction feels like somewhere you'd be more likely to run ito Bartleby the Scrivener than your therapist—unless she's a "bibliotherapist" like Noreen Tomassi, the center's executive director, who manages a service called A Novel Approach. For $125, Tomassi will handpick 12 books, basing her choices on a 45-minute phone call, an e-mail exchange or, preferably, a face-to-face session with you..." For more on bibliotherapy or to schedule a session, please click here.
NEW BOOKS BY PAST WINNERS
Congratulations to 2011 Emerging Writers Fellow Marie-Helene Bertino for her newly published novel, 2 A.M. at the Cat's Pajamas (Crown)! Watch Marie-Helene Bertino read and discuss her short story collection, Safe As Houses, at The Center.
READING GROUPS
Here at the Center we've made it our practice to bring the very best guides to lead our reading groups—extraordinary translators, renowned scholars and notable writers. Where else can you read García Márquez with his award-winning translator, Edith Grossman, or discuss Proust with writer and scholar George Prochnick? FIND OUT MORe
Contest Winner
Three Options for a Successful Lunar Landing
---
2014 Summer Literary Seminars/Center for Fiction prize winner
---
Four reasons for Edith's body to fidget: the scentless pillow case, the scratchy sheets, the removal of the left breast, the downshift of the morphine. One thing Mort does, downstairs in the den, lodged securely in his olive La-Z-Boy: slide his hand between the cushion and the side. What he finds there: his missing MedicAlert bracelet. Well I'll be a monkey. Two hiding places he had checked: his motorcycle saddlebag, wrapped around the insinkerator blades. Two origin stories about the bracelet: the shrapnel poking at his lung, his mate Johnson pushed it on him right after the mortar split Johnson's leg like a log.
EVENT SPOTLIGHT
Event Spotlight:
Michelle Bailat-Jones
On Thursday, November 6, Michelle will be reading from and discussing Fog Island Mountains, winner of The Center's 2013 Christopher Doheny Award. In this short essay she talks about understanding grief both privately and publicly, and how she dealt with these themes in her book. READ MORE
THE PROUST SOCIETY
Founded in 1997 by then Center director Harold Augenbraum, the Proust Society's mission is to encourage the reading, study and enjoyment of the work of Marcel Proust. The Society presents lectures for the public and members take part in groups that read and discuss Proust's masterpiece, À la recherche du temps perdu.
For more information, Click Here