JUNIOR EDITION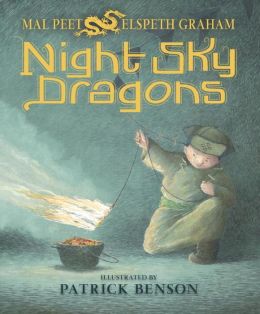 Night Sky Dragons
By Mal Peet & Elspeth Graham, illustrated by Patrick Benson (Candlewick Press)
Ages 6-8
No, girls and boys, the Silk Road was not a highway made of silk, and don't think to compare it to Dorothy's yellow brick Oz trail. As the empowering, vivid story Night Sky Dragons will reveal to the uninitiated, it was the trading and travel routes—from China to Europe's edges—that governed far-reaching exchanges of goods and cultures from the second century BC to well into medieval times. And if you were Yazul, a young Chinese boy living in a han—the kind of fortress, watchtower, safe haven and way station punctuating the Silk Road--you could easily believe that your home "stood halfway between the two ends of the world."
Poignantly, locating yourself at an imagined geographical point isn't always matched by the place you long for most in another's heart. Yazul's father, lord of the han is stern and cold, a great warrior bereft of his wife and disappointed in a son who would rather learn his grandfather's art of kite-making than apprentice to business and battle. Afloat in the air, kites can lift sadness "to the sky"— whether sadness about a missing mother, an unloving father. But back on earth Yazul causes an accident that just delivers more grief. In such a harsh world, harsh measures are taken, and his banishment is to kitchen drudge. Even there, though, it serves to keep one's eyes open, and when bandits threaten to attack, Yazul's unlikely array of skills saves the day. What they do to his father's feelings and Yazul's position in his family's ancestral line is just as important. That gunpowder has entered the equation is another story. READ MORE
BIBLIOTHERAPY
A Novel Approach
More Magazine writes, "In quaint headquarters, tucked among the blank towers of midtown Manhattan, the Center for Fiction feels like somewhere you'd be more likely to run ito Bartleby the Scrivener than your therapist—unless she's a "bibliotherapist" like Noreen Tomassi, the center's executive director, who manages a service called A Novel Approach. For $125, Tomassi will handpick 12 books, basing her choices on a 45-minute phone call, an e-mail exchange or, preferably, a face-to-face session with you..." For more on bibliotherapy or to schedule a session, please click here.
EXCERPT
Remembering Robert Stone
by Roxana Robinson
When I first read Robert Stone's work I was struck by the beauty of the sentences. That's the way a writer reads, listening to cadence and rhythm and beauty, and that's what first draws your respect and attention. Also the perfect economy of his prose: "Father Egan left off writing, rose from his chair and made his way – a little unsteadily – to the bottle of Flor de Cana which he had placed across the room from his desk."
The very first word here reveals the dark and monumental presence of the Catholic Church. With the next phrase we see that Egan cannot complete his task, struggles with alcoholism and makes a pathetic attempt to combat it. We know everything we need to know in the first sentence about the core of this man – his hopes, his conflicted life, his failures.... READ MORE
WATCH THE VIDEO
An Excerpt from Land of Love and Drowning
Congratulations to Tiphanie Yanique for winning the 2014 Flaherty-Dunnan First Novel Prize! Here is an excerpt from her novel, Land of Love and Drowning:

"Owen Arthur Bradshaw watched as the little girl was tied up with lace andsilk. He jostled the warm rum in his glass and listened to the wind.
The storm outside wasn't a hurricane. Just a tropical gale. It was the season for storms. Lightning slated through the heavy wooden shutters that were closed but unfastened. The thunder was coming through the walls built with blue bitch stone. There was no one outside walking in the rain. That sort of thing was avoided...." READ MORE
QUOTE OF THE WEEK
MacArthur Fellow and author Richard Powers joined The Nouveau Classical Project and Kamea String Quartet for an unforgettable event surrounding the musical references of Orfeo.
BOOK RECOMMENDATIONS
Staff Picks: Evie Wyld's All The Birds, Singing
Our Awards and Programs Manager, Sara Batkie, reviews All The Birds, Singing, a chilling novel by Evie Wyld which recently won the Miles Franklin Award, Australia's highest literary honor. READ MORE
THE PROUST SOCIETY
Founded in 1997 by then Center director Harold Augenbraum, the Proust Society's mission is to encourage the reading, study and enjoyment of the work of Marcel Proust. The Society presents lectures for the public and members take part in groups that read and discuss Proust's masterpiece, À la recherche du temps perdu.
For more information, Click Here