JUNIOR EDITION
New Books for Younger Readers
by Celia McGee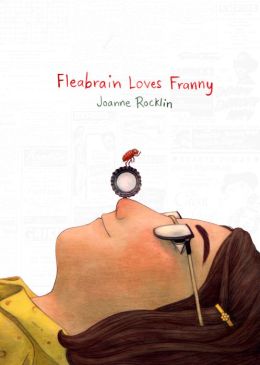 Fleabrain Loves Franny
By Joanne Rocklin (Amulet Books/Abrams)
Ages 8-12
Fleabrain, the miniscule insect in shining armor who hops in to save the day for an exceptional young girl named Franny Katzenback , is anything but. Joanne Rocklin, the best-selling author of this new book is no slouch, either, and she tops herself here. Joining the latest mini-trend of writing young people's fiction inspired by, in dialogue with, or subtly referencing classic books and their authors, she sets up an amusing tale about Fleabrain's jealousy of Franny's passion for the newly published Charlotte's Web, an instant classic and, in Franny's well-read estimation, "the greatest children's book of all time."
Fleabrain Loves Franny gives Charlotte a run for it's curly pink tail. The reasons Fleabrain loves Franny may be too numerous for even one of his intellectual role models, Pascal, to untangle and enumerate, but in fairness, some of these rationales border on self-serving tactics in Fleabrain's battle to change Franny's admiration for a silly spider in a children's book into true love for a real-life flea. A flea that's learned, romantic, brave, resourceful, a multilingual polymath, admittedly a little smug, but a doting presence close at hand, at the tip of the family dog's tail.
It's 1952, and Franny is recovering from polio, first in an iron lung and now confined to a wheelchair. Rocklin piercingly portrays the plight of a studious girl steeped thoroughly in an understanding of the very affliction she's suffering. Given a wide and superstitious berth by those she encounters, only her family keeps her company, along with a mean nurse who puts her through the daily torture of exercises intended to get her legs moving again. In the Katzenbacks' affluent Jewish neighborhood in Pittsburgh also live the famous and reclusive Dr. Jonas Salk, working on a polio cure, and his associate, Herr Gutman, whom Franny only knows as a an occasional, quiet dinner guest, with great sorrow in his eyes for his wife and daughter lost to the concentration camps. McCarthyism's specter also hovers, ready to strike.
BIBLIOTHERAPY
A Novel Approach
More Magazine writes, "In quaint headquarters, tucked among the blank towers of midtown Manhattan, the Center for Fiction feels like somewhere you'd be more likely to run ito Bartleby the Scrivener than your therapist—unless she's a "bibliotherapist" like Noreen Tomassi, the center's executive director, who manages a service called A Novel Approach. For $125, Tomassi will handpick 12 books, basing her choices on a 45-minute phone call, an e-mail exchange or, preferably, a face-to-face session with you..." For more on bibliotherapy or to schedule a session, please click here.
JOIN READING GROUPS
We are thrilled to announce a stellar line up of fall reading groups! Here at the Center we've made it our practice to bring the very best guides to lead our reading groups—extraordinary translators, renowned scholars and notable writers. Where else can you read García Márquez with his award-winning translator, Edith Grossman, or discuss Proust with writer and scholar George Prochnick? FIND OUT MORe
NEW BOOKS BY PAST WINNERS
Congratulations to 2011 Emerging Writers Fellow Marie-Helene Bertino for her newly published novel, 2 A.M. at the Cat's Pajamas (Crown)! Watch Marie-Helene Bertino read and discuss her short story collection, Safe As Houses, at The Center.
Contest Winner
Three Options for a Successful Lunar Landing
---
2014 Summer Literary Seminars/Center for Fiction prize winner
---
Four reasons for Edith's body to fidget: the scentless pillow case, the scratchy sheets, the removal of the left breast, the downshift of the morphine. One thing Mort does, downstairs in the den, lodged securely in his olive La-Z-Boy: slide his hand between the cushion and the side. What he finds there: his missing MedicAlert bracelet. Well I'll be a monkey. Two hiding places he had checked: his motorcycle saddlebag, wrapped around the insinkerator blades. Two origin stories about the bracelet: the shrapnel poking at his lung, his mate Johnson pushed it on him right after the mortar split Johnson's leg like a log.
BOOK RECOMMENDATIONS
Our summer intern, Delia Graham-Costello, recommends Junot Diaz's This Is How You Lose Her as a must-read for high-schoolers.
"I like this book so much it almost makes me angry. Junot Diaz is another writer who just nails it. He has mastered the art of well-placed humor—a difficult task for even the most seasoned authors. His prose is witty, touching and full of (often misplaced) love. I will admit that this book is in no way PG-13, but its raw language is well placed and well worth it. The language of this book perfectly aligns itself with reality—nothing is sugar coated or assuaged. Additionally, the structure of the book allows you to choose how you read it...."
THE PROUST SOCIETY
Founded in 1997 by then Center director Harold Augenbraum, the Proust Society's mission is to encourage the reading, study and enjoyment of the work of Marcel Proust. The Society presents lectures for the public and members take part in groups that read and discuss Proust's masterpiece, À la recherche du temps perdu.
For more information, Click Here