JUNIOR EDITION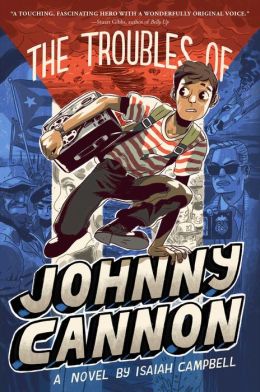 The Troubles of Johnny Cannon

By Isaiah Campbell (Simon & Schuster Books for Young Readers)
Ages 8-12
Super-heroes and schools without homework are among the phenomena unlikely to appear in real life. Johnny Cannon, of small-town Cullen, Alabama, knows this in his wishful heart, while still keeping such hopes alive. But it's also 1961 in the Deep South, during the administration of President John F. Kennedy. And Johnny's home life is deteriorating. His father, ex-military, is struggling with alcohol and bankruptcy. His older brother, Tommy, is a tall, tough, heroic soldier—and "dadgum," as Johnny would say, if he doesn't up and leave home again on a suspect secret mission. Just when Johnny's life seems to be settling back into the everyday dreariness that his determined good humor, naivety and imaginatively folksy turns of phrase ("I left a cloud of dust in the shape of Johnny Cannon") do their best to overcome, author Isaiah Campbell unlooses a macabre set of twists and turns that simultaneously serve as an action-packed history of race relations, the aborted Bay of Pigs invasion, and the conduct of Fidel Castro and the figures around him (such as a distinctly unpleasant Che Guevara) from a kid's-eye view....
BIBLIOTHERAPY
A Novel Approach
More Magazine writes, "In quaint headquarters, tucked among the blank towers of midtown Manhattan, the Center for Fiction feels like somewhere you'd be more likely to run ito Bartleby the Scrivener than your therapist—unless she's a "bibliotherapist" like Noreen Tomassi, the center's executive director, who manages a service called A Novel Approach. For $125, Tomassi will handpick 12 books, basing her choices on a 45-minute phone call, an e-mail exchange or, preferably, a face-to-face session with you..." For more on bibliotherapy or to schedule a session, please click here.
BOOK RECOMMENDATIONS
Pretax Reading
It's that time of year again. 2014 has come and gone, and the inevitable tax filing awaits. Whether you're struggling with debt or basking in the luxuries of financial success, we are sure these books will resonate with you (and offer an excuse to put off doing your taxes). READ MORE
THE PROUST SOCIETY
Founded in 1997 by then Center director Harold Augenbraum, the Proust Society's mission is to encourage the reading, study and enjoyment of the work of Marcel Proust. The Society presents lectures for the public and members take part in groups that read and discuss Proust's masterpiece, À la recherche du temps perdu.
For more information, Click Here